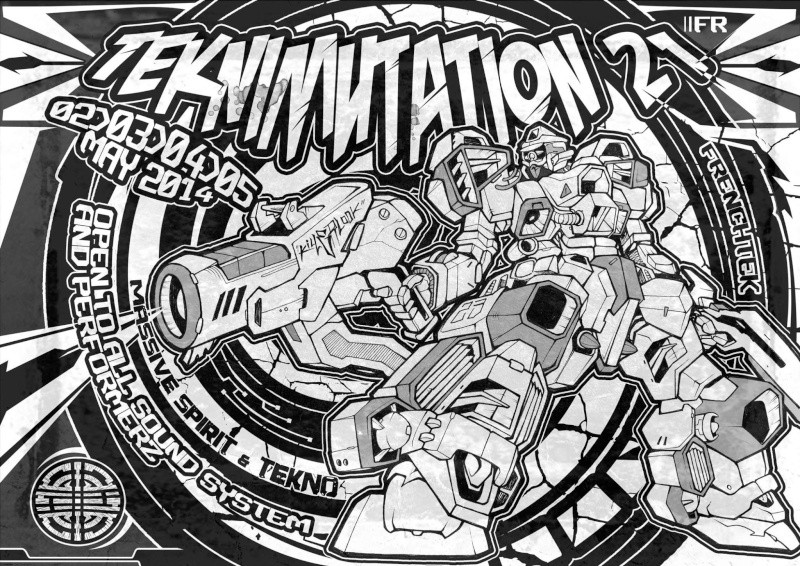 ---
! TEKNIMUTATION 21 !
---
COMPLETE THIS DOCUMENT AND THE RETURN THE COPY @
This email address is being protected from spambots. You need JavaScript enabled to view it.
---
! TWENTY ONE YEARS OLD OF UNDERGROUND TEKNO !
---
---- CHARTER OF SOUND SYSTEM- TEKNIMUTATION 21 - May 1, 2014
---
- This year, the teknival May 1st celebrates its 21 years.
- Since 1993 tekno underground culture continues to exist somehow .
Together , all of us to celebrate this event, that all goes well , a great party and representing the spirit of the free party solidarity, démerde , sharing, generosity and festive spirit ... well ... organized a brothel !
The protest - side teknival recent years ( LEGALIZE TEKNO & TWENTYTEK ) is not set aside the contrary you the sound system to highlight on your front , signs, flags, banners, leaflets , slogans .. .....
the struggle continues and will not stop there ...
We want the state changes of position on our culture and we demand a change in the law 2002.Cette draconian law is now all dusty and we will fight to the end as it will not amend .
The French sound system require :
Pass the legal threshold of 500 to 1500 people without prior notification .
Net stop seizures sound equipment .
Allow the sound system to their evening without pressure from the prefectures.
We are an amateur and alternative culture that account remain !
Seizures , license suspensions and other sanctions against organizers should disappear from the law.
We also want to be proficient in each prefecture who "know" interlocutors free and easy steps , whether to declare an event or to get help in case of problems (seizures, fines ... ), rather that people who know nothing and we regard them as nuisances.
Dialogue should be a reality in every prefecture of France: it is inconceivable today to hear a prefecture who refuses a file declaration or makes every effort not to allow the event.
- By participating in this teknival , I agree , on behalf of my sound system (or group of sounds) to respect the points written in this Charter.
Teknival - Times :
-Site open from Wednesday, April 30, 2014 for the preparation of the development.
- Mounting possible from Thursday, May 1 in the morning sounds.
- PUBLIC ACCESS Friday, May 2nd morning.
- Music until Monday, May 5, 14 H max .
- Mute every day from 14h to 16h for cleaning.
- Dismantling sounds until Tuesday, May 6 14H .
-Ability to stay on site for cleaning until Wednesday, May 7
- Organization:
- I agree , in addition to taking care of my sound, take time each day for the general organization of teknival . ( Like when you are hosting a party , you spend time in the parking lot , except that here , as it is much more , it's easier . )
- I AGREE ON BEHALF OF MY SOUND SYSTEM OR ITS POOL THAT I REPRESENT , TO SEND 3/4 PEOPLE TO PARTICIPATE IN THE ORGANIZATION FOR 2 HOURS EVERY DAY BY PLANNING TO ME BACK AT THE BEGINNING OF TEKNIVAL .
- I would stay available to the maximum possible for spinning a hand if galère.Plus generally , I am committed to facilitate the organization of tekos in the interest of all. I also personally committed to participate in the briefing of 30 minutes will take place daily at 11am .
-Region (s ) of the sound system :
Name- sound, or sounds posing together :
- Contact Name:
-Portable :
E.mail - valid :
- Name of 2nd Contact:
-Portable 2nd of Contact:
E.mail - valid :
Done by:
Him :
- REGISTRATION BEGINS TODAY February 24, 2014
- or Gmail address of TEKNIMUTATION 21 >>>
This email address is being protected from spambots. You need JavaScript enabled to view it.
- THESE CHARTS WILL BE CONFIDENTIAL AND USED IN ORDER TO REACH YOU AND INFORM YOU .
! UNITY & MAKE SOME FUCKING NOISE FOR THIS MASSIVE 21st BIRTHDZ !
---
!!! TEKNIMUTATION 21 !!!
---
REMPLISSEZ CE DOCUMENT COPIEZ LE ET RENVOYEZ LE @
This email address is being protected from spambots. You need JavaScript enabled to view it.
---
!!! TWENTY ONE YEARS OLD OF UNDERGROUND TEKNO !!!
---
---- CHARTE DES SOUND SYSTEM –TEKNIMUTATION 21- 1er mai 2014
---
-Cette année, le teknival du 1er Mai fête ses 21 ans.
-Depuis 1993 la culture tekno underground continue d'exister tant bien que mal.
-Réunissons nous tous pour fêter dignement cet événement, que tout se passe bien, une fête belle et représentant bien l'esprit de la free party : solidarité, démerde, partage, générosité et esprit festif ... bref un bordel… organisé !
-Le côté REVENDICATIF des teknival des dernières années (LEGALIZE TEKNO & TWENTYTEK) n'est pas mis de côté bien au contraire à vous les sound system de le mettre en avant sur vos façade, pancartes, drapeaux, bannières, tracts, slogans.......
le combat continue et ne s'arrêtera pas là...
Nous voulons que l'état change de position sur notre culture et nous exigeons une modification de la loi de 2002.Cette loi liberticide est aujourd'hui toute poussiéreuse et nous nous battrons jusqu'au bout tant qu'elle ne sera pas modifier en conséquence.
Les sound system Français exigent :
De passer le seuil légal de 500 personnes à 1500 personnes sans avoir de déclaration préalable.
De stopper net les saisies de matériel de sonorisation.
De permettre aux sound system de faire leur soirée sans subir de pressions de la part des préfectures.
Nous sommes une culture amateur et alternative qui compte le rester !
Les saisies, suspensions de permis et autres sanctions contre les organisateurs doivent disparaitre de la loi.
Nous voulons également avoir des interlocuteurs compétents dans chaque préfecture qui « connaissent » les free et qui facilitent les démarches, que ce soit pour déclarer un événement ou pour obtenir de l'aide en cas de problème (saisies, amendes...), plutôt que des gens qui n'y connaissent rien et nous considèrent comme des nuisances.
Le dialogue doit être une réalité dans chaque préfecture de France : il est inconcevable d'entendre aujourd'hui une préfecture qui refuse un dossier de déclaration ou qui met tout en œuvre pour ne pas autoriser l'évènement.
-En participant à ce teknival, je m'engage, au nom de mon sound system (ou groupe de sons) à respecter les points écrits dans cette charte.
-Horaires du teknival :
-Site ouvert à partir du mercredi 30 avril 2014 pour la préparation de l'aménagement.
-Montage des sons possible à partir du jeudi 01 mai au matin.
-ACCES PUBLIC vendredi 02 mai matin.
-Musique jusqu'au lundi 05 mai, 14 H maxi.
-Coupure du son chaque jour de 14H a 16H pour nettoyage.
-Démontage des sons jusqu'au mardi 06 mai 14H.
-Possibilité de rester sur site pour nettoyage jusqu'au mercredi 07 Mai.
-Organisation:
-Je m'engage, en plus de m'occuper de mon son, à prendre du temps chaque jour pour l'organisation générale du teknival. (Comme quand vous organisez une fête, vous passez du temps sur le parking, sauf que là, comme on est beaucoup plus nombreux, c'est plus facile.)
-JE M'ENGAGE AU NOM DE MON SOUND SYSTEM OU DU REGROUPEMENT DE SON QUE JE REPRÉSENTE, A ENVOYER 3/4 PERSONNES POUR PARTICIPER A L'ORGANISATION, PENDANT 2 HEURES, CHAQUE JOUR , SELON LE PLANNING QUI ME SERA REMIS AU DÉBUT DU TEKNIVAL.
-Je resterais disponible au maximum possible pour filer un coup de main en cas de galère.Plus généralement, je m'engage à faciliter l'organisation du tekos dans l'intérêt de tous. Je m'engage aussi personnellement à participer au briefing de 30 minutes qui aura lieu tous les jours à 11H.
-Région(s) du sound system :
-Nom du son, ou des sons qui posent ensemble :
-Nom du contact :
-Portable :
-E.mail valide :
-Nom du 2eme contact :
-Portable du 2eme contact :
-E.mail valide :
-Fait par :
-Le:
-LES INSCRIPTIONS COMMENCENT AUJOURD'HUI 24 FÉVRIER 2014
-ou sur l'adresse Gmail du TEKNIMUTATION 21 >>>
This email address is being protected from spambots. You need JavaScript enabled to view it.
-CES CHARTES RESTERONT CONFIDENTIELLES ET SERONT UTILISÉES AFIN DE POUVOIR VOUS JOINDRE ET VOUS INFORMER.
!!! UNITY & MAKE SOME FUCKING NOISE FOR THIS MASSIVE 21st BIRTHDZ !!