hey all,
designing a passive crossover at the moment, already have a ultradrive which i will use normally for my midtops, im taking this up as a university project i would like to do.
CP755Ti (8ohm) Resistance 5.5Ohms - 110db 1w/1m
PD123ER (8ohm) Resistance 5.6Ohms - 96db 1w/1m
Second Order (12db/octave) Two-Way Crossover
Linkwitz-Riley filter
High pass Impedance - 5.6Ohms
Low pass Impedance - 5.5Ohms
Frequency 1200Hz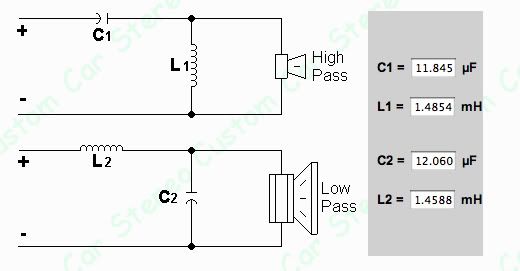 Using the above circuit would work however im looking to design something with the option of having a variable crossover if possible, not sure how i would go about this as the only way i can think of doing it is having a great deal of components and a selectable switch to route the signal through the required components for different crossover points.
900Hz is the ideal point i should be crossing but using a 12db LR filter this shifts the -3b point further down than id like it, also have a 180 degree phase shift with this filter, i assume that would mean just reversing the polarity of one or both of the drivers? to bring them back in phase
Also am i correct in getting the D.C resistance of the CD and 12" from the spec sheets as the actual resistance seen across the driver, even though the stated reistance is 8ohms. i rialise this may also change across different frequencies.
I need to also think about adding a lpad to adjust the difference in sensitivity between the 2 drivers as the pd123er is 97db 1w/1m and the cp755ti 110db 1w/1m to get the right balance between mid and top
Will be buying quality components to handle the power. dont want to be melting stuff!! They will for use in a MT121,
Anyone able to help me any further?
had this posted over at sp too but had no responses as of yet,